3D RAPID PACKING BY STRATOCONCEPTION®
The Pack&Strat
®
process proposes an
aesthetic packaging with several customizations
and automatic parts assembly possibilities. The process is also engaged with the sustainable development challenge by proposing the
possibility of cushioning in recyclable or biodegradable materials
such as cardboard, wood, cork and recyclable materials made from natural fibres. It is also possible to apply the process to polystyrene and polyethylene. It is currently a
successful industrial solution.
The patented Pack&Strat® process
The process is distributed as
stand-alone stations
or as software that can be integrated to the equipment (cutter, fixing, etc.) of three-axis machines or digital cutters. It is also possible to package products in small or medium series from direct production of cutting shapes, directly usable by serial cutting presses.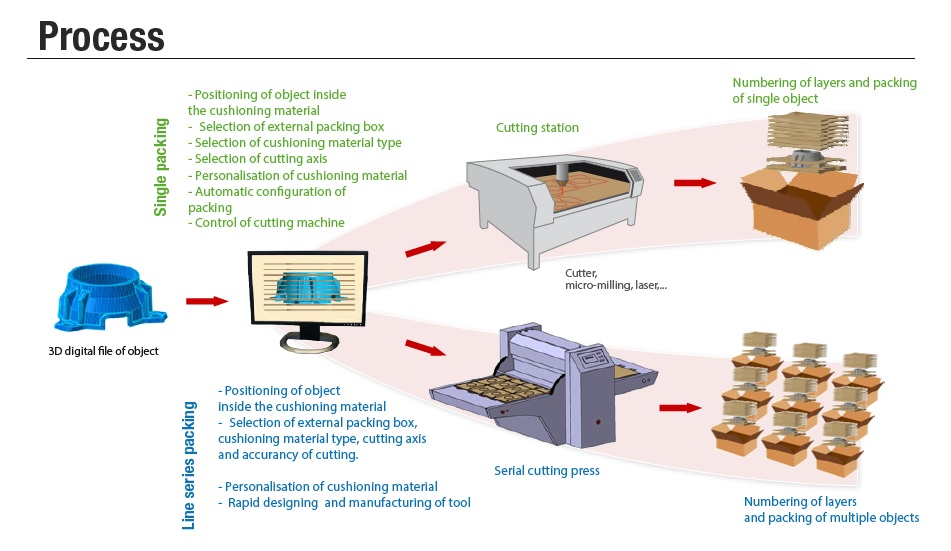 Patended Stratoconception
®
Process - Patents and trademarks C. BARLIER - CIRTES - France
The Pack&Strat® Software
Illustration of the software main steps
Applications examples of the Pack&Strat Process®
Pack&Strat® Stations